Unveiling Fall 2023 Men's Fashion: A Guide to Belt Styling
Unveiling Fall 2023 Men's Fashion: A Guide to Belt Styling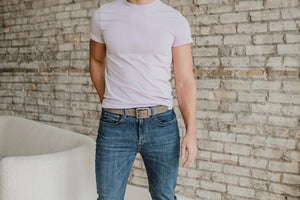 With the arrival of fall comes the opportunity to revamp your wardrobe and embrace the latest trends in men's fashion. Fall brings a fusion of classic and contemporary styles that cater to every taste. One accessory that can instantly elevate your look is the belt. Whether you're aiming for a polished office attire or a casual weekend ensemble, belts play a pivotal role in completing your outfit. In this blog post, we'll explore the captivating realm of fall men's fashion and delve into the art of dressing a belt for a refined and stylish appearance.
Elevating Everyday Denim: A Belted Affair Denim is a staple that transcends seasons, and this fall is no different. Whether you're rocking jeans or denim jackets, a well-chosen belt can take your outfit from ordinary to outstanding. Opt for a versatile leather belt in shades of brown or black to effortlessly complement your denim ensemble. Roll up your jeans slightly at the ankles to draw attention to your belt and create a sophisticated, laid-back look.
 Suits and Belts: A Match Made in Elegance The fall season calls for suiting up, and the addition of a belt can make all the difference. For tailored suits, choose a belt that harmonizes with your shoes – a seamless transition from belt to footwear creates a polished and cohesive appearance. Experiment with textures such as suede or woven belts to add depth and character to your formal attire.
Layering Essentials: Coats, Cardigans, and Belts As the temperatures drop, layering becomes essential. When it comes to outerwear, incorporating a belt can be surprisingly stylish. Loop a belt over your favorite coat or trench to accentuate your waist and create a structured silhouette. For chunky knit cardigans, a belt can cinch your layers together while adding a touch of sophistication to your cozy ensemble.
The Casual Cool Vibe: Belting Your Chinos Chinos are a versatile wardrobe piece that can transition effortlessly from casual to smart-casual. Tuck in your button-down shirt and add a slim belt to infuse a dash of refinement into your laid-back outfit. Whether you're strolling through the city or meeting friends for brunch, belting your chinos adds a subtle touch of style.
Sporty Elegance: Athletic Wear and Belts Sporty and athleisure styles continue to merge with classic menswear this fall. Elevate your athletic wear by incorporating a sleek belt. Whether you're wearing joggers, track pants, or sporty shorts, a belt can lend structure and sophistication to your athletic-inspired outfit.
Beyond the Waist: Harnessing Belt Creativity Don't limit your belt to just your waist. Experiment with styling options like draping a belt over your shoulder, hanging it diagonally across your chest, or even looping it through your belt loops in unique ways. These unconventional approaches can add an avant-garde touch to your ensemble and showcase your individuality.
As Fall unfolds, men's fashion embraces a rich blend of traditional elegance and contemporary flair. The right belt can effortlessly tie together your outfits, regardless of whether you're aiming for a formal, casual, or sporty look. By mastering the art of belt dressing, you open up a world of possibilities to showcase your personal style. So, step into fall with confidence, and let your belts be a reflection of your refined taste and fashion-forward thinking.