Embracing Fall 2023 Women's Fashion: Mastering the Art of Belt Dressing
Embracing Fall 2023 Women's Fashion: Mastering the Art of Belt Dressing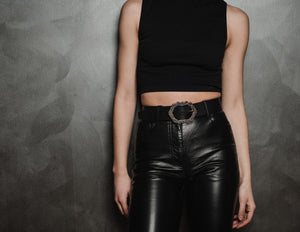 As the leaves begin to turn and a crisp breeze fills the air, it's time to transition your wardrobe for the fall season. Fall brings a fresh wave of women's fashion trends that are both stylish and versatile. One accessory that's making a comeback in a big way is the belt. From cinching oversized blazers to adding a touch of elegance to flowy dresses, belts are the ultimate autumn wardrobe essential. In this blog post, we'll explore the captivating world of fall women's fashion and delve into the art of dressing a belt to elevate your style game.
Belted Blazers: The Power Play This fall, oversized blazers are taking center stage. To create a polished and authoritative look, cinch your blazer at the waist with a sleek belt. Opt for wider belts with statement buckles to add a touch of personality to your ensemble. Whether you're heading to the office or a casual brunch, belted blazers effortlessly exude confidence and sophistication.
Cinching Dresses: From Flowy to Fabulous Transitioning summer dresses into fall is a breeze with the right belt. For flowy maxi dresses or A-line silhouettes, a belt can create definition and prevent your outfit from appearing shapeless. Try experimenting with contrasting colors or textures to make your belt pop against your dress. This styling trick not only adds visual interest but also keeps you warm during cooler autumn days.
High-Waisted Wonders: Elevating Denim and Trousers High-waisted jeans and trousers continue to reign supreme this fall. Elevate your look by incorporating a belt that complements the overall color palette of your outfit. Wide belts with intricate details work particularly well with high-waisted bottoms, drawing attention to your waist and adding an extra layer of charm to your ensemble.
Layering Essentials: Coats and Belts As the temperature drops, it's time to layer up. Take your outerwear game to the next level by adding a belt to your coats, trenches, and even chunky knit cardigans. This simple addition can transform an ordinary coat into a fashion statement. Choose belts that match the vibe of your outerwear – a leather belt for a classic look or a woven belt for a boho twist.
Dressing Up Jumpsuits: Effortless Elegance Jumpsuits have become a year-round staple, and fall is no exception. When it comes to styling jumpsuits, belts are your secret weapon. Whether you're wearing a tailored jumpsuit or a relaxed one, a belt can help define your waist and create an hourglass silhouette. Consider metallic belts for a touch of glam or rope belts for a more relaxed vibe.
The Versatility of Scarf Belts Fall is synonymous with scarves, and this season, scarf belts are making waves. Transform a simple outfit by looping a scarf through your belt loops or tying it around your waist. This unique styling technique not only adds warmth but also infuses a hint of bohemian flair into your look.
As Fall 2023 unfolds, women's fashion is all about celebrating individuality and embracing versatility. Belts have emerged as the ultimate accessory to transform and elevate your outfits. Whether you're cinching blazers, defining dresses, or adding flair to coats, mastering the art of belt dressing opens up a world of endless possibilities for expressing your personal style. So, embrace the autumn breeze with confidence, and let your belts tell a story of elegance and creativity.